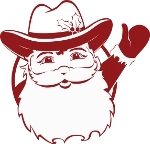 Santa's Ranch Drive Through Christmas Light Park
Santa's Ranch Drive Through Christmas Light Park
Santa's Ranch Drive Through Christmas Light Park
9561 I-35, New Braunfels,, TX 78130
Nov. 3rd - Dec. 31st
You're one short drive away from your next favorite Christmas tradition!

It all started over 20 years ago with a vision to create a place for families to slow down, gather together & not just be spectators but be a part of their own stories. The beauty of lights has always brought our family special moments & sparked a desire to share what is truly important during the holiday season. Therefore, our family decided to embark on opening Santa's Ranch.

Each year, our family at the ranch transforms our backyard creations into dazzling one-of-a-kind displays creating a magical Hill Country Wonderland for all to enjoy.

We hope that you take time this holiday season to join us in celebrating the birth of Jesus Christ & capture the joy of Christmas in a way that lasts a lifetime! At Santa's Ranch, the magic of Christmas comes alive!

So, pack your kids & pets into the car and watch their faces light up as they travel through a mile long magical wonderland with over 2.5 million lights.

We can't wait to see you!